Reno Gazette-Journal
Damone Brown, welcome to Reno! Try not to blow your minuscule D-League salary on slots and hookers. (Just pick one: slots or hookers.) Damone had 18 points and 13 rebounds last night in the first-ever game for the Reno Bighorns, who are an expansion team in the D-League this fall. Reno lost by five to the Bakersfield Jam, former employers of Gerry McNamara and current employers of (you guessed it) Mateen Cleaves. There's no rest for the weary as they have another game today, against Mookie Watkins' old cronies the LA D-Fenders.
Mookie crushes the dreams of some Chinese dude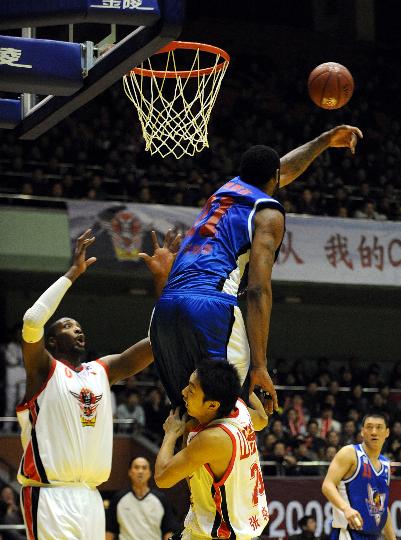 Speaking of Mookie, he's continuing to throw his bulk around and dominate the Chinese Basketball Association. He's played five games in the past ten days, posting double-doubles in all of them. And swatting shots with impunity. The team has gone just 1-4 in those five games, but Darryl has put up the following numbers:
Tianjin sits at 2-5 so far on the year, tied for 13th in an 18-team league. Clearly it is the fault of everyone on the team who is not associated with Syracuse.

Otis Hill's BC Odessa squad has ripped off three straight wins in the Ukrainian League, squeezing into third place as they near the halfway point of the season. Otis had 14 points and 5 boards in the first of these three games. He then came out with 22 and 8 in the next game, and a calm 13 and 2 in the most recent tilt.
Efes Pilsen is flying high in the Turkish Basketball League and Preston Shumpert is content to let the game come to him. Preston's team scored two impressive 24-point wins the past couple weekends. Shump had a modest 10 points in the first and 8 in the second, secure in the knowledge that if his team really needed it, he could drop 30 on any given night. He also chipped in 6 points, 5 rebounds, and 2 assists against Real Madrid in this week's Euroleague game which Madrid won handily, dropping Efes Pilsen to 2-3 in the ten-game preliminary round.
Josh Pace accepts the EuroChallenge
Something funky is going on in the Estonian League, where Josh Pace has not played in either of his team's last two league games (both losses). He did, though, play in a Baltic League game this past Saturday (contributing 8 points and 5 boards in a two-point win) and in their first-round game in the FIBA EuroChallenge (5 points, 5 rebounds, 2 assists in another two-point win). Not sure why he hasn't gotten into the Estonian league games, it looks as if there is some sort of national-eligibility question because none of their American players got into those games. We'll keep an eye on developments as they… develop.
The Brits have begun to figure out Matt Gorman just a bit. In the four games he played since last Friday, he was held under 10 points twice. He had just six points on Nov 21, then came back with a more typical 19-point showing the next night. He had 13 on Wednesday (against a team featuring a guy named Will Funn), then a mere 9 points on Friday, clearly suffering from too much turkey the night before.
In the NBA, Donte Greene continues to get minutes from the Kings. He's played in six games since we last looked in, averaging around 21 minutes per game (all losses - shocker). His scoring contributions range from 0 points to 9 points in those six games; in five of them he shot 30% or less from the field. He is 1-14 on three-pointers in the six games. The last two he has stepped up his game on the boards, contributing 6 rebounds in each game (a career high). Oh, and Episode 2 of the Donte Greene show is coming soon. There is only one word for that — BUCKETS:
They have got to keep him on the roster if only for the entertainment value. I wonder if the Brad Millers of that team think he's hilarious or obnoxious….
Everyone else in the NBA is up to his usual shenanigans. Carmelo has 4 double-doubles in his last five games (including 30 & 11 the day before Thanksgiving). Etan Thomas had 6 points and 6 rebounds on Thanksgiving, his best game of the week in both categories. Jason Hart played 10 minutes on Nov 21, contributing 2 assists and 2 rebounds, but hasn't played since. And Hakim Warrick has started to fall off for the Grizzlies, with his best performance being 8 points and 5 rebounds last Wednesday night but the rest of his games this week in the 2-4 point, 1-3 rebound range. Looks like he may be moving further out of the rotation in Memphis. It's still early, though; if history is any guide, he'll have a stretch in December or January where he puts up 20 & 10 a night for a while.
Demetris Nichols = Terrence Roberts = still unemployed. I can't imagine that state will last forever, but for the moment, it is as it is.