With the NBA season about to (finally) tip off, it's time to revive our long-running-but-recently-deficient series of posts covering the professional basketball lives of former Orangemen. You probaby have heard the recent news about Andy Rautins being cut by the Mavs or Paul Harris wrecking the D-League on the stellar TNIAAM, but here we are going to go a bit deeper. We strive for completeness over consistency. Translation: I don't know how often I'll put together one of these updates, but every time I do, I'll give you the full rundown of who is where and how he is doing. This time around, we've got an MVP of the month, a coach with a ponytail, and one former Orangeman has changed his name to "Mert". Dive in, won't you?
Let's start with a quick look at the NBA types. With the waiving of Rautins, and his subsequent signing with Spanish club Lucentum Alicante, the Orange presence in the Association has shrunk. In addition to Rautins' departure, it appears that Etan Thomas's NBA career may be over. Interestingly, he is still on the executive board of the NBA Players' Association and he made various media appearances during the lockout. So I guess he's still considered an NBA player. But he remains a free agent with all rosters set and the season about to begin. It's certainly plausible that he could be signed midseason by a team looking for interior depth, but unless that happens he'll have to either sit out the year, go play overseas, or officially retire and go into politics full-time.
As for the guys who are still in the league, the marquee player is (duh) Carmelo Anthony, about to begin his first full season with the Knicks. With the addition of Tyson Chandler (in what I will call the Rautins trade) the Knicks are looking at a ridiculously stacked frontcourt of Chandler, Anthony, and all-star Amare Stoudemire. Their problem is their lack of talent at guard, so much so that they plan to move ahead with Carmelo running the point at times. They are expected to make the playoffs but nobody yet knows whether they will be serious contenders for the title. After Melo, the next-biggest Orange name is probably Wes Johnson. He is entering his 2nd year with Minnesota, who finally fired their joke of a coach Kurt Rambis — a man who tried to turn Jonny Flynn into Steve Kerr just because that's the offense he wanted to run, without regard to Jonny's skill set. Rambis also tried to make Wes into nothing but a three-point bomber rather than utilizing his full range of talent. With veteran coach Rick Adelman taking the reins in Minnesota, it is already clear that Wes is going to be called on to do more than shoot.
Anthony and Johnson are the only former Orangemen expected to start for their NBA teams, but three other guys will see time coming off their respective benches. Hakim Warrick returns for a second season in Phoenix. According to this report, he was in danger of being buried on the bench behind Josh Childress and starter Grant Hill, but he seriously outplayed Childress in Phoenix's two preseason games and coach Alvin Gentry says he wants to figure out a way to get Hak out on the floor. Jonny Flynn is out of Minnesota (not a moment to soon) and fighting to back up Kyle Lowry in Houston. To his detriment, he didn't get a full preseason to "oust" the returning backup, Goran Dragic, who played well for Houston last year and has the advantage of knowing the coaches and their system. So Flynn may start the year as the third-string PG, but that situation looks fluid and will bear watching as the season progresses. The third SU guy on an NBA bench?


.

.

.



Donte Greene. Yes, you forgot about Donte Greene again. He's part of a four-headed monster at small forward for the Sacramento Kings, and nobody seems to know quite how those minutes will be distributed among Greene, John Salmons, Travis Outlaw, and Francisco Garcia. If history is any guide, Donte will have a few games this season where he explodes for 25 effortless points, but the rest of the season will be spent wondering why he can't do that every night.
---
D-LEAGUE
There are three former Orangemen knocking their heads against the underside of the NBA hardwood, trying to break through to that top level by spending their days toiling in the D-League hoping to get a shot later on this season.
Paul Harris
is back in Maine and finally on the court, tearing things up for the Red Claws. As I mentioned above, TNIAAM chronicled his recent stat-sheet orgasm of 30 points, 16 rebounds, and 7 assists in his second game with the club (he missed the team's first six games due to the birth of his son). In
tonight's game
he continued his strong play with 21 points (9-14 shooting), 8 rebounds, 11 assists, 3 steals and 2 blocks.
Terrence Roberts
is living the Hollywood life, playing for the LA D-Fenders. He's had what you might call a roller-coaster season. He had one strong game early on — a
14-point, 7-rebound effort
in LA's 2nd game of the year. Other than that he barely made a dent in the stat sheet, totaling 11 points and 1 rebound in six other games through December 7. In some of these games he played just one or two minutes. Something he did must have impressed someone, though, because Oklahoma City signed him to a free-agent contract on December 9 to give him a look in their abbreviated training camp. He didn't last in OKC, getting cut on December 12. But apparently his time in Oklahoma did him some good, because he came back to LA with something to prove. In his first game back he
scored 11 points and blocked 5 shots
in 20 minutes. Then, after playing only
7 minutes the next night
(though he did manage 5 rebounds in those 7 minutes) he broke out with
20 points, 12 boards, and 2 blocks
in a season-high 34 minutes on December 21, followed by
19 points, 16 rebounds, and even a team-high 3 assists
tonight. Finally,
Eric Devendorf
has come on lately for the Idaho Stampede. After struggling for the first few games, he broke out with a
16-point effort on December 16
, and followed that up with 14 and 12 points, respectively, in his next two games. He is 3-5 on three-pointers over the course of those three games, which is a remarkable stat — not so much the 60% but the fact that he only attempted five of them in over 70 minutes of game play. He's also averaged 3 rebounds per game over that span. Tonight, though, he regressed a bit, finishing the game with just
5 points (on 2-4 shooting) in 13 minutes
. I will also point out, just for the record, that he has 4 assists total in 8 games this season — but on the bright side, only 6 turnovers for "Unforced Eric".
---
OVERSEAS
Well, I don't know if you want to count Mexico as "overseas" per se. Former SU and NBA player Damone Brown spent a few weeks playing down there for Huracanes de Tampico. He was added to the roster in late November and played five games for Huracanes. His best games were an 8-point, 7-rebound effort on December 10 and a 12-point, 8-board game on December 12. But after that game he was cut in favor of former Rutgers fat guy Ollie Bailey. Apparently Huracanes was looking for more of a power-forward type, and like every international league, Mexican teams are limited in the number of foreign-born (i.e. American) players on their roster. But whether or not he catches on with another team this season, the best (by far) news for Damone is that his legal troubles have finally been resolved. He was convicted of helping to conceal the money laundering of a drug dealer (basically he kept some of this guy's money in his own safe deposit box). He pled guilty over the summer and was officially sentenced to one year probation on November 3. So hopefully he keeps himself out of trouble from here on out (of course Mexico might not be the place you want to live if you are trying to stay away from drug lords).
Rautins' deal to play in Spain has bolstered the SU contingent in Europe, which includes reigning Big East Defensive Player of the Year Rick Jackson. Rick got off to a solid start for Chorale Roanne in France. Through the first seven games of the season he averaged 8.9ppg and 7.6rpg. He was a consistent performer, tallying at least 5 points (but never more than 12) in each game, and getting at least 7 rebounds in every game save one. However, Rick injured a ligament in his left knee in late November and has been out ever since. He was initially projected to miss three weeks. So far it's been four. Their game tonight was rescheduled, so their next game is Dec 27 and we'll check to see if he's back in the lineup then.
Also playing in France (shown here guarding Tony Parker during the lockout) is Demetris Nichols, who was signed early in the season by Cholet as a replacement for the injured Robert Hite. D-Nic, who had a great season in France last year (averaging over 18ppg for Vichy), had an outstanding run with Cholet through their first eight games. He scored 18 points on 8-11 shooting in their 2nd game and was inserted into the starting lineup thereafter. He averaged 15 points per game and 3 rebounds per game over that time span. He was voted (by the fans) the team's MVP for the month of October, and in early November his contract was extended for the rest of the season. But Demetris was unfortunately bitten by the injury bug, just like Jackson (and around the same time too). He hurt his left ankle and Achilles at the end of November and has been out ever since. Until he comes back, please enjoy this compilation of highlights from his MVP month of October:
Also still rocking rims in Germany — believe it or not — is Elvir Ovcina, a.k.a. "The Original Matt Tomaszewski". Elvir has been the starting center for LTi Geissen 46ers for the past two seasons, and they've brought him back for a third go-round. He's having another solid year for the 46ers, averaging 12.6 points and 6.4 rebounds per game over 14 games, very much like his numbers from last year (11.4 and 6.6). And, because I know you are wondering, he is 4-9 from three-point range this year. His top performance of the season was a 22 & 9 game (with 3 assists) on October 23; he also had 21 & 10 once, and 20 & 11 on another occasion. All of these games were early in the season; apparently the opposition has started scouting him because his numbers have tailed off a bit since those early-season monster games. Here's Elvir failing to get a rebound: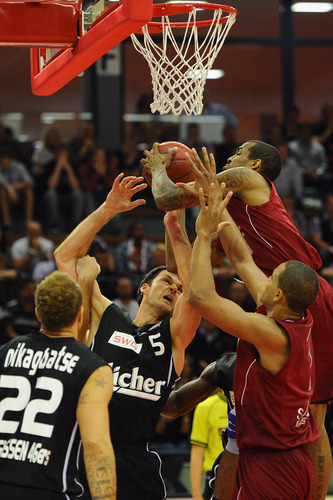 And here is his coach. Honest: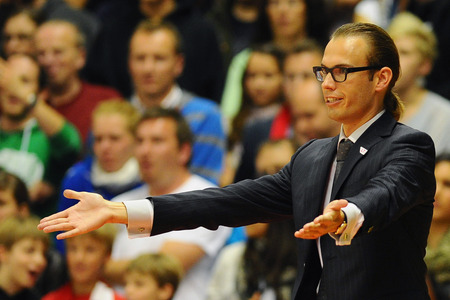 Jim Boeheim he ain't.
Also playing in Europe — well, at least in the European Union — is Darryl Watkins, who has found himself a spot on a team in Cyprus. He's playing center for Intercollege ETHA, and (at least on their team website) is using his middle name, Finesse, rather than his first name. The Cypriot basketball statistics are hard to decipher, owing to the fact that they use Greek, and the headings on the columns aren't even correctly displayed by my web browsers. Here is their most recent report on year-to-date stats. You can find Watkins easily enough, and can figure out he's scored 72 points in 8 games (9 ppg for those of you scoring at home), but the other columns are mostly a mystery. As best I can tell by comparing it to an individual game box score, the first two columns after the shooting totals are rebounds, defensive and then offensive. This would mean Watkins has 43 rebounds on the season, or 5.4 per game. Sounds plausible. In that case, he had 16 points and 9 boards in their most recent game (the box score linked above). Nowhere can I find a list of his game-by-game statistics (without looking up each box score individually) nor can I tell you with any confidence what the other columns of stats mean. One thing I can talk about is Mookie's performance in this year's EuroChallenge, which is one of several FIBA transnational competitions. Etha played in six games and achieved a 3-3 record in their group, but that was not enough to advance to the next round. Watkins was their top player in this competition, averaging 11.8 points and 7.8 rebounds in the six games (with his best performance a 22 & 9 showing against Russia's Triumph Lyubertsy). Incidentally, Rick Jackson's Roanne squad is also part of the EuroChallenge this year; Rick has only played in two of their games to date, totaling 7 points and 11 boards in the two contests. They have advanced to the next stage, which begins in mid-January, so hopefully Rick will be back in time to help them move on.
Finally, just north of Cyprus — and currently occupying Northern Cyprus, for that matter — but not in the European Union (yet) is Turkey, where we find our old pal Preston Shumpert. He's been playing in Turkey for years, going back to the 2007-2008 season. In fact, he likes it there so much that two years ago he became a Turkish citizen (or at least attained dual citizenship) and adopted the Turkish first name "Mert". After shooting a ridiculous 60% from three (yes you read that right) in 09-10, he dropped off to 37% last season and his scoring fell from 13.2ppg to 10.7ppg. This year he seems to be back on form somewhat, as he is shooting 48% from deep and scoring 11.6ppg, with his best showing a 22 point, 4 rebound game on October 30.
Then there is the case of Arinze Onuaku. You may remember reading this past fall that he signed to play in Lithuania for Neptunas Klaipeda. He appeared in three games for Neptunas in their Lithuanian league competition, averaging 12 points and 7 rebounds per contest (and shooting 71% on free throws!!). He also played three games for them in the Baltic League, again averaging 12 points but only 3.3 rebounds per game. But unfortunately for Arinze the trail ends there. After a November 3 Lithuanian league game in which he scored 6 points (on 2-3 shooting) and grabbed 8 rebounds, he disappears from their box scores. I was able to find this photo of him on the bench (in some quality SU gear) from their game on November 19:
So clearly he too was injured in November, earlier in the month than Nichols and Jackson but still. I think we are safe in saying November was not a good month for a lot of people connected to the Syracuse basketball program. Anyway, it turns out Arinze injured his knee, possibly a recurrence of the serious injury he suffered in the 2010 Big East Tournament. According to this news item from December 12, he ultimately decided to leave Neptunas in order to come back to the US for what could be another long rehab. Let's hope he's able to get back to playing shape and latch on with another team down the road. It would be a further shame if that injury did not just cost SU a Final Four, but cost Arinze his chance at a serious basketball career. Yet another reason to hate Georgetown with all your heart and soul.
In addition to all these guys playing overseas, we should report that Ryan Blackwell is still the head coach of the Osaka Evessa in Japan (though you'd think they would be able to find a photo of him for his page on their website). Notable absences from this list are Kristof Ongenaet (who played last year in Italy) and Josh Pace (New Zealand), neither of whom show up on a current roster. The New Zealand season doesn't start until March, so Pace could easily end up playing there again. He may or may not join an ABA team in the meantime, as he has done twice already. K-Ong on the other hand, I have no idea if he is still trying to pursue a pro basketball career. You'd think he'd be an asset to a team in one of the Belgian leagues, considering he wouldn't count as an "import" player. But so far not a peep.
We will, of course, keep you posted. Eventually. Enjoy your holiday celebration of choice and we'll see you back here for the start of Big East play on Wednesday!