It's back! Your one-stop to learn all there is to know about former SU basketball players who are currently playing professionally somewhere or other. It's been a long time since I've had the flexibility to put one of these together, so it's a bit longer than usual. Plenty of content to peruse while you wait for today's noon tipoff vs. Temple.
To kick things off, here's a little trivia. Do you know how many SU alums have played this year in the NBA's D-League?
SEVEN. And all seven of them played last weekend. Here's the rundown, from youngest to oldest (just because):
Fab Melo (Maine Red Claws) - Fab missed most of the first month of the season to injury, but he came back around Thanksgiving and has begun to get himself into game shape. Most recently he had 5 points, 5 rebounds, and 3 blocks on Sunday against Erie; his highs for the season are 14 points (Nov 25) and 11 rebounds (Nov 30); he's averaging 7 points, 5 boards, and 2 blocks per game.
Rick Jackson (Austin Toros) - While playing last season in France, Rick suffered an Achilles injury. The Golden State Warriors did an unusual thing this year when they brought him to training camp while he was still rehabbing his injury. He was slated to be on their D-League roster but they traded him to the Toros just before the season started. The Warriors blog "Golden State of Mind" took an in-depth look at Jackson's situation in the broader context of how Golden State is using their D-League team, which they own outright (rather than simply affiliate with). Like Fab, Rick missed most of November with his injury but he's been back for about a month now. He's averaging a robust 9.1 rebounds per game (sixth in the league), to go with 8.6 points. His scoring has been up-and-down but his numbers on the boards have been consistently good: only one game with fewer than 7 rebounds. His best game was December 2 against Idaho when he scored 18 (on 9-9 shooting) and pulled down 11 boards.
Kris Joseph (Maine Red Claws) - I am listing Kris after Rick because Kris is actually about 6 months older. K-Jo made the Celtics roster after an excellent summer league and training camp, and was assigned to the Red Claws when the D-League season began. He has been tearing up the gyms of the junior circuit, averaging 21 points and 6 rebounds in 7 games. At the moment, he's on the Celtics' NBA roster. He's been "called up" several times this season, and has actually appeared briefly in three games (Nov 2, Nov 30, Dec 5) totaling 2 points, one rebound, and one assist in 9 minutes of court time. The Celtics have been recalling him from time to time to enable him to practice with the big club, or to provide depth when a regular player will be out for a couple of games, but then sending him back down to get game experience when Maine has a game scheduled. Hope the guy has a frequent flier account.
Arinze Onuaku (Canton Charge) - As solid a rebounder as Rick Jackson has been, AO has been better. He's cleaning the glass to the tune of 10.6 boards per game, which is third in the league, and he's leading the league in offensive rebounds per game (5.1, more than a full o-board better than the next guy). Not only that, he's scoring the ball too, averaging almost 14 points per contest. His 6 double-doubles lead the league. And all this playing just over 20 minutes a game. He's getting a little flak from his coach about not being physically ready for the faster pace of the pro game, apparently intended to motivate him to get leaner. I don't remember him having too much trouble getting down the court, so maybe missing all that time to injury last season has hurt his conditioning.
Andy Rautins (Tulsa 66ers) - Andy has been doing what he does: shoot the ball. After being cut by OKC at the end of training camp, he latched onto their D-League affiliate and started bombing away. He is a terrific 44.6% from behind the arc in 8 games this season. He has scored in double-figures in six of eight games for Tulsa, taking fully 70% of his field goal attempts from long distance (56 of 80 shots). His best game of the year was when he went 5-9 on threes en route to 21 points and 5 boards against Sioux Falls back on Dec 5.
Paul Harris (Iowa Energy) - Paul spent a few weeks in Iowa last spring, and headed back to the Philippines over the summer (where he'd played in 2011). But instead of rejoining his Filipino squad this fall, the former #1 overall pick in the NBDL draft decided to give it a go again. He wasn't on any roster at the start of the year, but the Energy selected him "from the player pool" in early December, and he's appeared in four games for them so far, providing energy and rebounding off the bench. He's averaged 7.5 rebounds and just under 4 points per game so far.
That's six. Who's the seventh? Why, it's Demetris Nichols! (Sioux Falls Skyforce) The former Cavalier/Knick/Bull, who has mainly played in France for the past three seasons (though he had a stint in Ukraine as well) is hanging around in South Dakota hoping for another shot at the big time. He's back to his scoring ways, too. Other than one bizarre night where he went 0-5 from the floor and managed only 4 points, he's been lighting it up. He's had at least 15 points in every other game, with a high of 25 on Dec 7. He's averaging 17.3 ppg, and if you take out that weird 4 point performance it's more like 19. He's also pulling in a very respectable 6.3 rebounds per game, and even has a double-double to his credit.
By the way, four of these seven guys appear on the most recent NBDL "Prospect Watch" (link courtesy of TNIAAM). They rank the top 30 D-League prospects each week. Arinze checks in at #11 and rising. Rautins is #28, dropping just a little as his shooting has cooled off (relatively) from earlier in the season. Meanwhile, Rick Jackson and Demetris Nichols appear in the "On the Cusp" section, outside the top 30 but knocking on the door. Hopefully all of these guys stay healthy and continue to put up solid numbers, and hopefully one of them (besides Joseph and Melo) gets the big call sometime this season.
But these seven are not the only former Orangemen plying their trade professionally at the moment. Far from it. For instance, there are dudes in the actual NBA.
---
Carmelo Anthony is having an MVP-type year so far, leading the surprising Knicks to one of the best records in the league. He's scoring 28ppg, pulling down 6.3 rpg, and playing within the team framework. Being surrounded by veteran players whom he respects surely has a lot to do with the way he's performed, as has his summer Olympics. Tonight's game was the first in five games that he failed to score 30, and that's only because he was ejected after getting frustrated with the terrible officiating and losing his cool. In the New York lineup, Melo is usually the power forward (nominally) and he has been able to turn the resulting mismatches to his advantage when on offense, while not yielding too much on the defensive end to bigger players. Whether this can continue when Amare Stoudemire returns from injury (any day now) remains to be seen, but right now Carmelo is everything the Knicks hoped for when they sign-and-traded for him two years ago.
Dion Waiters is having a fascinating season for Cleveland. He has started all 19 games he's played (after not starting a single game in college, remember!) and is playing 32 minutes per game. For the entire first month of the season he was Cleveland's best offensive threat, with Kyrie Irving out. Accordingly, he has been taking about 15 shots per game, and though he is averaging nearly 15 ppg, he is shooting just 36% from the floor. He's been brilliant at times, but pedestrian at other times. Basically what you would expect from a 20-year-old rookie thrust by necessity into the role of primary scorer. Everything you need to know about Dion's season is brilliantly encapsulated via this piece at The Classical, which has this as its central premise:
…the sensation of watching an episode of "The A-Team" happens to be what it feels like watching Dion Waiters play professional basketball.
It also comes with this wonderful bit of artwork, titled "Dion Baracus":
Seriously, read the article. It's fantastic. Dion recently missed nearly three weeks with an ankle issue but he is back (as is Irving) and Cavs fans are eager to get a full taste of how the two of them playing together will work.
Also in the NBA are Hakim Warrick (with Charlotte) and Wes Johnson (with Phoenix). However, neither has been able to crack the regular rotation for their respective squads, despite being a pair of high-flying, dunk-tastic forwards.
Warrick has appeared in nine games for the Bobcats after being acquired from New Orleans via trade in the second week of the season, but hasn't made much of an impact. The one game in which he got truly significant minutes was an absolute blowout of Charlotte by the Thunder, a game in which OKC was up 64-24 at halftime. Hak played 24 minutes of garbage time — really almost the entire game was garbage time — which was his chance to show the coaches that he could ball and deserved a bit more burn. But he shot just 1-8 from the floor and was more or less buried back on the bench afterwards. Overall he's averaging 3 points and 1.5 rebounds per contest, playing 9 minutes a game (when he gets in).
Wes is in a similar spot, having appeared in eleven Suns games but averaging just 6 minutes per game. In his case it's more of a shock, as he is just a couple of years out from being the #4 overall pick in the draft. But unlike Warrick, who put together a few very solid years in Memphis early in his career, Wes has never really had much success in the pros. Minnesota slotted him at shooting guard, expecting him to approach the 40% shooting on threes that he displayed in Orange. But he shot just 35% as a rookie, and that dropped to 30% last year. This season he's just 3-12 from deep in his limited minutes. What always surprised me about his time with the Wolves was his anemic rebounding numbers, since he was so often ferocious on the boards in college. I figured it was because he was playing out of position at the 2, nowhere near the glass on offense or defense. Maybe it was something more fundamental about translating his athleticism to the next level. Whatever the reason, it has not been a reliable part of his NBA game. For the year, he is averaging 2.1 ppg and 0.8 rpg for Phoenix in very limited floor time.
Sadly it looks like Wes is heading in the direction of Jonny Flynn, who as of this writing is out of the NBA entirely. He's playing in Australia. His name did come up in rumors about a week ago, as he drew a bit of interest from the Lakers who needed help at point guard, what with their lack of healthy Steves. But they ultimately passed, leaving Jonny down under, trying to improve his game, and hoping to get that call from someone at some point. He's still just 23 years old and while he faces an uphill battle to get back to the NBA, I wouldn't count him out just yet. This guy is rooting for Jonny just as much as we all are. It's a nice piece from about a week ago, just as those Lakers rumors were swirling, and among its many great points one finds much of what I've said for years about how the T-Wolves, in particular Kurt Rambis, made it very hard for Jonny to succeed in Minnesota. Anyway, Jonny is ballin' in Melbourne, averaging 16.8 points and 6.2 assists, and even 4 rebounds per game. Here's your photographic evidence too:
Also out of the Association this year is Jonny's classmate Donte Greene. He was in camp with the Nets after the Kings did not re-sign him, but did not make the team. As far as I know, Donte is not playing organized ball anywhere at the moment. My guess is that he is working out, staying in shape, and hoping to catch on somewhere mid-season if possible.
---
Of course, there are other Orange pros out in the world, far from these shores (though none so far as Flynn). Since this post is getting ridiculously long, I'll try to cut back on the bloviating… but no promises.
Eric Devendorf is playing in Ukraine for SK DNIPRO AZOT DNIPRODZERZHYNSK. And I did not make that up. (Though it does not need to be in ALL CAPS, but it's funnier that way.) He started the year as a reliable double-digit scorer (6 of the first 7 games, including a 20-point performance) but has trailed off in the past few games. He's averaging 8.4 ppg for the year, 1.8 rebounds, 1.5 assists, and 1.7 turnovers. And here is his name in Cyrillic:
Also back in the USSR is Darryl Watkins, playing for Lukoil Academik in Bulgaria, defending Bulgarian League champs (and back in first place again so far). Mookie has played in 10 league games, starting 8 of them, and is averaging 12.5 points and 6.8 rebounds, with his best game being his most recent: a 19-point, 12 rebound performance in a win over Spartak Pleven on the 20th. His team also played in the EuroCup, but failed to advance out of first-round group play. Mookie averaged 12 points and 5 boards in those six games. And this dude is on his team:
You can't get any more Eastern European than that.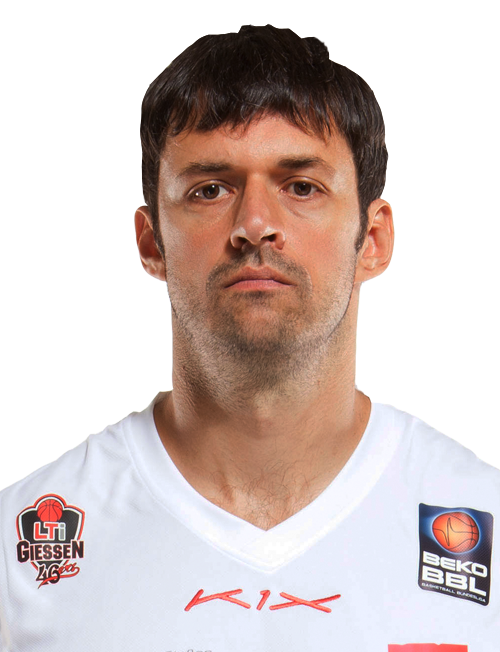 Although that guy might get some serious competition from our own Elvir Ovcina, who is still going strong as a pro baller. The Bosnian Bruiser is entering his third full season with the LTi Geissen 46ers in Germany's BBL. He missed their first four games but since then has averaged 11 points and 5.3 rebounds per contest, including 22 & 11 in his last game.
Preston Shumpert became a Turkish citizen a few years back and changed his first name to "Mert". (This is old news if you are a regular reader of this feature.) He's still playing in Turkey, but he switched teams this season. He is now playing for Aliaga Petkim, playing 30 minutes a game and averaging 13 points. He's still got the sweet touch, hitting just under 40% of his threes on the season, though that is down somewhat from his 48% pace last year. He's also contributing 4.3 rebounds and 1.8 assists per game.
Next, do you recognize #12 in this photo?
Yes indeed, it's the one and only Kristof Ongenaet, back where he belongs. K-Ong is playing in his home country of Belgium this season… for a team in the second division. In a way, it's the Belgian D-League. As a result, stats are particularly hard to come by. I've done some digging and, as far as I can tell, Kristof has a total of two points on the season. They came on Nov 17 against BBC Kangoeroes Boom, and yes I have seen some amazing foreign basketball team names over the years but that one is definitely up there. Check the logo:
Outstanding. Anyway, if you look at this game report you will see that Ongenaet scored 2 points in this game. I looked at as many other game reports as were available on this site, and none of them showed K-Ong with any points. I can only assume that he was too busy grabbing rebounds, throwing elbows, and crashing to the floor after loose balls.
That wraps up the overseas players, but there is one more guy to mention. Damone Brown, former 76er, Wizard, Raptor, and Net, (and D-Leaguer, and prison inmate) is still getting paid to play. He's currently with the Jacksonville Giants of the ABA, who won the championship last year (as their website so gaudily proclaims). Shockingly, their website also includes box scores of their games to date this season. (In all my past experiences trying to chronicle SU guys in the ABA, it was exceedingly rare to get any statistical information published, let alone a full box score.) So I can tell you that Damone is averaging 11 points and 6.5 rebounds per game this season so far. Will wonders never cease?!
Finally, real quick, two items in the "I bet you didn't know" category. Syracuse.com reported over the summer that Brandon Reese had signed with a team in Israel, and then in October broke the news that he'd not been satisfied with the situation, and had come back to this hemisphere and landed a tryout with the London Lightning of the Canadian League. Well, the Lightning cut Brandon during camp. But here's a photo of him guarding a dude during that tryout:
But you know who was also trying out for a Canadian team this fall? Jeremy McNeil. He was in camp with the Windsor Express. It's not clear if he actually made the team but he was certainly close. Here he is on defense at practice the day before their opening game:
And he is listed as being on the 'final roster' in this "season preview", albeit from a fan blog as opposed to any official publication. So it would appear that he was in their plans. However, he did not play in that first game, or any other game this season. He is not on their roster now, and yet his name does not appear in any of the league transactions, which you would expect to see if he'd been released. So it's a mystery what actually happened to him. If anyone hears from him, please let me know!
PS. Ryan Blackwell was let go as coach of Osaka in Japan's BJ-League over the summer, but he was hired by Gunma a month into the current season to replace the coach they fired after an 0-8 start. Gunma has "improved" under Blackwell, which is to say they are no longer winless, and not even in last place. In fact they are now 4-16 overall, and on a two-game winning streak even. Break up the Crane Thunders! (Yes, that is their name. Did you even have to ask?)