Ladies, gentlemen, and fellow bloggers, the 2008 NIT is complete. Congratulations to the Ohio State Buckeyes on being able to do in the postseason what they were unable to do in the preseason. This momentous event means that the 2nd Annual Cuse Country NIT Bracket Challenge has come to a close, and it's time to get tallyin'.
This year's March Sadness (TM) was a rousing success. We had 127 participants from all over the country, and the competition was spirited (and at times downright nasty). There were 3 ties and 4 lead changes, making for a tense final four week. But the results are in and we are now ready to announce the winners.

Last Place
As announced in this space last week, the last-place bracket prize goes to andyhaner who earned a grand total of 13 out of a possible 62 points. Andy will now be able to thumb his nose at the NIT wherever he goes, without lifting a finger, simply by displaying these pins:
Congratulations again, andyhaner. May you be roundly mocked by all who know you.
3rd & 4th place
The third-place and fourth-place winners each receive one of these NIT Apple Patches: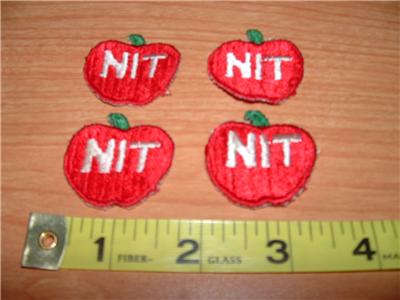 The third-place winner, with 47 points, is ymistry. Your patch will be on its way shortly, whoever you are. But there is a four-way tie for 4th place between DRBHartford, Client #9, Orange Roughy and Invisible Boggs. Each of these fine fellows scored 45 points. A tiebreaker is clearly indicated. What to do? A close inspection of the brackets reveals that one of these four contestants had a more consistently accurate bracket than the others, correctly choosing 25 games out of 31 (compared to 22 or 23 for the other guys). This contestant was the only one of the four to correctly predict both finalists, though he incorrectly chose UMass over OSU in his championship game. [Side note: there were four bracketeers who correctly predicted the final two -- each of the four, though, chose UMass as the champion! Weird.] I had a sentimental favorite in this race, too. I tried to formulate a valid reason to give the fourth-place prize to Invisible Boggs, because of the sheer wonderfulness of their nickname (and their blog is a great read too). But then I realized that if I forced the evidence to fit my desired results I'd be no better than John Yoo. So my conscience dictates that I must award the fourth-place prize to Client #9, even though his "clever" nickname is so three weeks ago.
Fortunately there are clear winners in second and first place.
Second Place
With 49 points, and a terrible pun for a nickname, the second-place prize (a vintage VHS of Boeheim On Basketball) goes to Wrecked 'Em. Hopefully he still owns a working VCR. Look for this bracketeer to be tearing up the asphalt courts this summer after rigorous training in the fundamentals of basketball, while wearing an NIT Apple Patch on his sleeve to boost his street cred.
First Place
Prophetically living up to his/her/their nickname, with 51 points (a new March Sadness record) and recipient of the 128-page photo essay on the history of the NIT (as well as an NIT Apple Patch), please give a big hand to NITPickers. Sir(s)/Madam(s), your book will be in the mail shortly. Though my guess is that you probably already own a copy, and studied it for tips on how to pick this year's field. In that case you should donate it to your local school library, where it can educate generations of future bracketeers.
…
BUT WAIT THERE'S MORE!
Most Improved Player
During several of my childhood summers I spent a week or two playing basketball at Bishop Grimes' Cobra Camp. Those of you who know me know that I am not particularly athletic. I was even worse around age 12. I'd grown to nearly my full height but lacked even rudimentary coordination. I had about a 20% chance of making a hoop from beyond 12 feet — and that was only if nobody was guarding me. I couldn't dribble without looking at the ball the whole time. I threw a mean bounce pass, but that was about it. Basically I sucked. Hard. But I had fun anyway, and had nothing better to do in the summers, so I kept going to this camp. One summer, for some reason, things started to click a little bit. I suddenly wasn't completely terrible. I could hit a few foul shots, would consistently make layups, and had learned how to get in position for rebounds (the one good thing about being tall at an early age). I'd gone from completely awful to simply mediocre. I was awarded the Most Improved Player Award for that camp session, which was the last award announced (therefore the awesomest), and the most remunerative — the All-Camp teams got trophies or something, but I got a free week at next year's camp!
Anyway, since I accidentally purchased an extra prize for this bracket contest, I felt it only fitting to award it to the Most Improved Player in the contest. This gentleman opened the scoring with a thud, choosing only 8 of the 16 first-round games correctly. He continued his flailing in the 2nd round, with only 3 correct picks out of 8. But he persevered. Even when he only had one of the final four teams alive, he didn't give up. He made the most of what little ability he had. He rode that team as far as they would go, which, as it turned out, was all the way to the championship. His bracket is a sea of red, but there is a persistent sliver of blue running all the way to the center. He vaulted himself from completely awful to simply mediocre, finishing tied for 60th place with 30 points. Ladies and gentlemen, I present to you the only person who chose the champion correctly yet finished outside the top 25, a self-proclaimed Idiot, your 2008 CCNITBC Most Improved Player, Russianator!
The Russianator will take home the beautiful bi-colored Syracuse University logo nightlight, which in actuality doesn't really look like this:
but like this:
Although it's not orange (and neither is my wall) — that's just a remnant of how the blue glow interacts with my cameraphone's light sensors. (The nightlight also can glow green, by the way.) Congratulations to the Russianator on this honor.
Full final standings can be found here. Prize winners will be contacted by email within the next several days to arrange delivery of prizes. Thanks to all who participated. We hope you continue to stop by from time to time to get your SU hoops fix, and we sincerely hope to NOT see you back here for next year's NIT!