Sorting through my mail the other day, sandwiched inside the usual pile of credit card offers and debt collection notices I found a letter addressed to me from the Syracuse University Athletic Dept. Could it finally be the long-awaited apology letter from Daryl Gross? Perhaps I've been selected to compete in next year's Dunk & Bright "Action in the Lane" contest?
Of course not. It's the spring fundraising letter.
As I perused the letter and the accompanying donation form, a number of things stuck out.
One thing (that may not bother the masses but sticks in my grammarian's craw) is the awful run-on sentence that constitutes the final paragraph of the letter:
We have done a lot but there is still much to do, that is why we are looking to those of you who fill the Dome and cheer our teams on to please support the Orange Club, our student-athletes are depending on you!
Whoa, take a breath there Scotty. Grab yourself a semicolon; they're free.
Then there is the donation form itself, where you can direct your contribution to a specific sport of your choice: football, volleyball, field hockey, or…
Ooof. Awk-ward!
(Ed. note: I added the highlighting on that image, it didn't come like that.)
But the main question that came to mind was, why did I get this? I've never got a letter like this one before. I figure that the reason they now have my mailing address on file is that I purchased NIT tickets in March through SUAthletics.com, and had to give my credit card billing address (even though the tix were print-at-home). But surely they are not sending this letter to everyone who bought NIT tickets online? It would be one thing to send letters to those who bought NIT tix and live in Central NY. But I bought tickets to the Maryland game — and my mailing address is College Park, MD. Any reasonably-trained computer would have filtered me out with the rest of the UMD riffraff. So I think there is a decent chance that dozens of UMD fans received the same letter in their mailboxes this week and chuckled in smug superiority at how dumb the SU Athletic Dept is to send them fundraising letters. (At least we won the game.)
However, it is possible that I wasn't simply spammed along with the greater College Park area. If you read the start of the 2nd paragraph, apparently they've decided that I am a season ticket holder, which is news to me. It is true that my family currently splits a pair of season hoops tickets with another family, but the tickets are in the other family's name, so that's not it. We did have football season tickets for a few years in the Marvin Graves era, and those were under my dad's name, and his first name (Joe) is similar to mine, so maybe some dusty data-analysis routine put my new address together with his old season-ticket-holder-ness, and thinks that I am him and that I moved to Maryland at some point but came back for the NIT. If that is the case, then the fact that he is currently on the University payroll (with his correct name and address) apparently didn't warrant consideration. Whatever happened to get this letter into my mailbox, it doesn't speak highly of the Athletic Dept.'s information systems.
But no matter what the circumstance, I'm glad to have received the letter because it included an easy-to-read graphical display of all the perks that come with the various levels of membership in the Orange Club (which I guess is different than the Orange Pack).
I have to admit, this is a part of the athletic program to which I've never given much direct thought, or even expected to give any thought. But with the letter sitting right in front of me, I can't help but check it out and see what sort of stuff the fundraising department has come up with.
First — the titles of the membership levels. Only $5,000 for "Director", while "Head Coach" requires $15,000? I didn't realize Dr. Gross was so humble. And what's with "Coaches Corner"? It's more important than "Assistant Coach". Is it some secret room in the Dome where Boeheim, Robinson, Hillsman, Desko, Gary Gait and Luke Jensen hang out and do shots in private? (Oh, and the new women's hockey coach too.)
I will say, some of the perks are pretty sweet. Sideline passes to football games; traveling on the team charter to an away game (I assume tickets would be included..?); VIP reception with the AD and Head Coaches. I'm sure the coaches love having to go to those sorts of deals. We all know Pasqualoni would be sitting there in his suit jacket fuming that this was time he coudl be wathing game film. (Although, technically, it doesn't say which head coaches will be at the reception.)
If you were ever unsure of which sport was really top dog at SU, just notice that every single one of the football-based perks (preferred parking; away game tickets; sideline access; charter travel) is cheaper than its basketball-based counterpart.
I'm really curious what the "Exclusive SU Athletics merchandise gift" at the $5,000 level is. It better be nice. If it's a Dome Cushion and a leftover Reafsnyder jersey, or whatever else Manny's has lying around in its back room, I'd be pissed. On the other hand, I would be intensely excited if it were one of these Otto hats:
(PS. The Otto hat is wearing its own hat! Awesome.)
Note that you do not have to donate at the "Champion" level in order to be recognized on the "Wall of Champions". Branding, fellas, branding!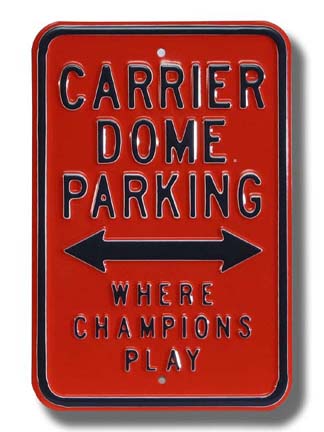 Finally, consider the Law of Diminishing Returns. If you double your donation from an already-huge $25,000 to an insane $50,000, what additional, mega-exclusive perk do you get? A lock of Boeheim's hair? Private use of the Dome roof as your own personal moon-bounce? Greg Robinson recording the outgoing message on your answering machine? ("Hi, you've reached the Smiths. We're not home right now, but the fact that you called shows a lot of want-to on your part.")
No. The big, superperk for only the cream of the donating crop is a reserved parking space at the Dome. That's it. Is Dome parking really that bad that people will pay an extra $25,000 just to have a reserved spot? Really? I can't believe it is. Is it? We always park at Hutchings and walk up the hill. It ain't that bad. Hell, I bet you could find someone to drive you to and from each home game during the football and basketball seasons for less than $5000. Spend the rest on Otto hats for the kids.